Translate this page into:

doi:
10.5005/jp-journals-10053-0061
Addressing the Gag Reflex: A Literature Review
Corresponding Author: Sweta K Pisulkar, Associate Professor, Department of Prosthodontics, Sharad Pawar Dental College Datta Meghe Institute of Medical Sciences University, Wardha Maharashtra, India, e-mail: drsweta15@gmail.com.
© 2018 International Journal of Recent Surgical and Medical Sciences
Disclaimer:
This article was originally published by Thieme Medical and Scientific Publishers Private Ltd. and was migrated to Scientific Scholar after the change of Publisher; therefore Scientific Scholar has no control over the quality or content of this article.
How to cite this article: Pisulkar SK, Agrawal R, Godbole SR, Jadhav V. Addressing the Gag Reflex: A Literature Review. Int J Recent Surg Med Sci 2018;4(1):2-4.
Abstract
Gagging is an involuntary protective reflex. Some patients have an extremely low threshold for the gag reflex. A severe gag reflex can be a big obstacle in certain dental procedures especially during the making of a maxillary impression. Many dental patients avoid going to the dentist because of an abnormally severe gag reflex. Treating such group of patients can be stressful and a time-consuming experience, both for the dentist and for the patient. The main aim of this article is to understand the etiology and effective management of such patients for a stress-free and fruitful clinical practice.
Keywords
Gagging
Management
Neurophysiology of gagging
Severity index
INTRODUCTION
Making a maxillary impression can be the worst 45 seconds of life for both the patient and the dentist due to gagging. A severe gag reflex can be a big obstacle in certain procedures, as it prevents the patients from seeking regular oral health care services comfortably. Gagging is a normal, physiological, defense reflex mechanism that prevents entry of foreign bodies into the trachea, pharynx, or larynx.1 If foreign body enters the trachea, pharynx, or larynx, then involuntary contraction of the muscles of soft palate or the pharynx results, which leads to retching.
In retching, peristalsis becomes uncoordinated, spasmodic, and reversed in direction. As air is forced over the closed glottis, characteristic retching sound is produced. This reflex is perfectly a natural part of our body's self-defense mechanism, as it prevents something from entering the throat that prevents choking except as part of normal swallowing.2
ETIOLOGY
The etiology of hyperactive gagging is listed in Table 1.3
| Local factors | Medical factors | Social factors | Psychological factors | Iatrogenic factors | Prosthetic factors |
| --- | --- | --- | --- | --- | --- |
| Nasal obstruction | Chronic gastritis | Hypersensitivity due to heavy smoking | Fear | Suction and water tubes | Poor retention of dentures |
| Deviated nasal septum | Stomach carcinoma | Chronic alcoholism | Stress | Instrumentation | Surface finish of dentures |
| Nasal polyps and congestion | Peptic ulceration | | Learned responses | Radiography | Overextended and improperly extended dentures |
NEUROPHYSIOLOGY OF GAGGING
The origin of gagging can be somatic or psychogenic. Somatic gagging is initiated by sensory nerve stimulation from direct contact of trigger area. Although trigger areas are specific to individuals, sites, such as certain parts of the palate and the lateral borders of the tongue commonly elicit the gag reflex. Psychogenic gagging controlled by higher centers of the brain is induced without direct contact. The sound, smell, sight, or even the thought of dental treatment can be enough to initiate the gag reflex in some individuals. These receptors are located on the posterior third of the tongue or the soft palate, and are subsequently conveyed by the sensory neuron via afferent (toward the brain) nerves to the gag center located in the medulla oblongata (lower portion of the brain). Then, from this center, motor neurons via efferent (away from the brain) nerve fibers are conveyed to the throat muscles that are involved in gagging (Fig. 1).2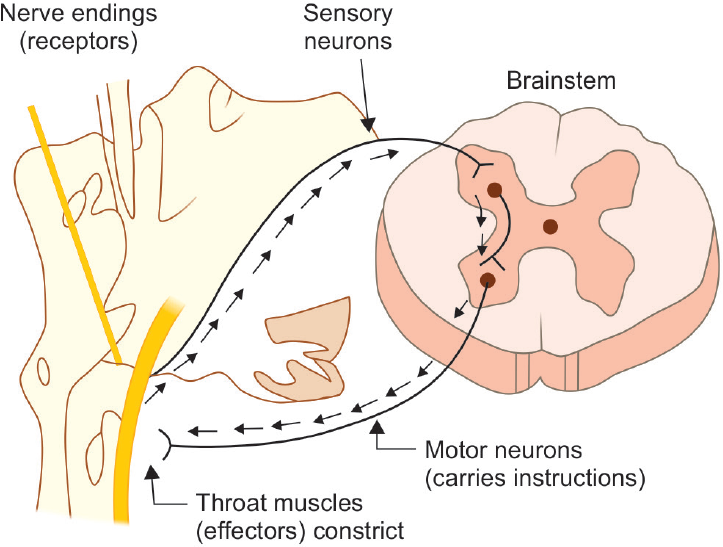 ASSESSMENT OF GAGGING
Dickinson and Fiske gagging severity index is listed in Table 2.1
| Grade | Severity |
| --- | --- |
| I | Normal gagging; very mild, occasional, and controlled by the patient |
| II | Mild gagging; control is acquired by the patient with reassurance from the dental team |
| III | Moderate gagging; consistent and limits treatment options |
| IV | Severe gagging; occurs with all forms of treatment, including simple visual examination |
| V | Very severe gagging; affecting patient behavior and dental attendance and making treatment impossible |
MANAGEMENT TECHNIQUES
Behavior modification

Desensitization

Conditioning prosthesis

Pharmacological methods

Acupuncture and acupressure

Miscellaneous methods:

– Reduction of palatal coverage of maxillary denture
SUMMARY
A strong potential for compromised treatment is the most serious consequence associated in patients with hyperactive gag reflex. A complete oral examination, medical history, and conversation with the patient are important sources of information that assist with the management of gagging problems. Exaggerated gag reflex can be controlled by numerous available techniques and the same technique may not solve every patient's problem. The cause or causes involved should dictate the technique or techniques used.
Conflict of interest
None.
Show Sections